In the Beginning
Right from the beginning Mitsubishi Electric manufactured world leading products founded on two key principles: quality and technological innovation. Video Recorders, Colour TVs and Audio Systems were examples of categories where Mitsubishi Electric led the way. Yet in the early 80's those products were not represented in New Zealand, in fact the brand was unknown here.
Ron Woodrow Company Founder
The foresight that led to the introduction of Mitsubishi Electric products in New Zealand by MELCO / BDT came from its founder Ron Woodrow.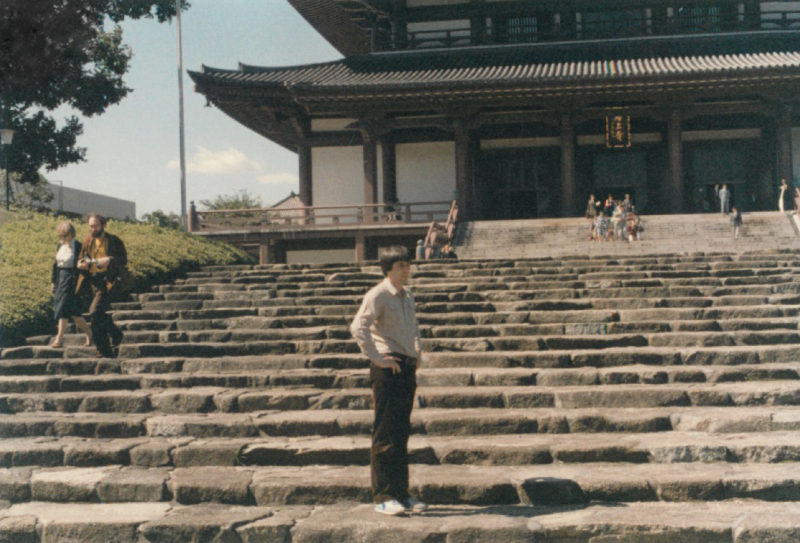 Ron began his career at EMI in Wellington. With a keen interest in consumer electronics his attention was drawn to how video recorder technologies were advancing, particularly by Japanese manufacturers. The potential he could see convinced him to take a bold step. Leaving the security of EMI in 1981, Ron along with Pat Feehan set up a new venture called MELTRON to import Mitsubishi Electric products.
Starting off with video recorders, the product range quickly grew to include TVs, Microwaves and computer products.
Impressed with the success, after 1 year Mitsubishi Electric Japan became a 51% partner in the venture and MELTRON was renamed MELCO (Mitsubishi Electric Company). The business grew quickly, with its head office in Wellington; branches were also opened in Christchurch and Auckland.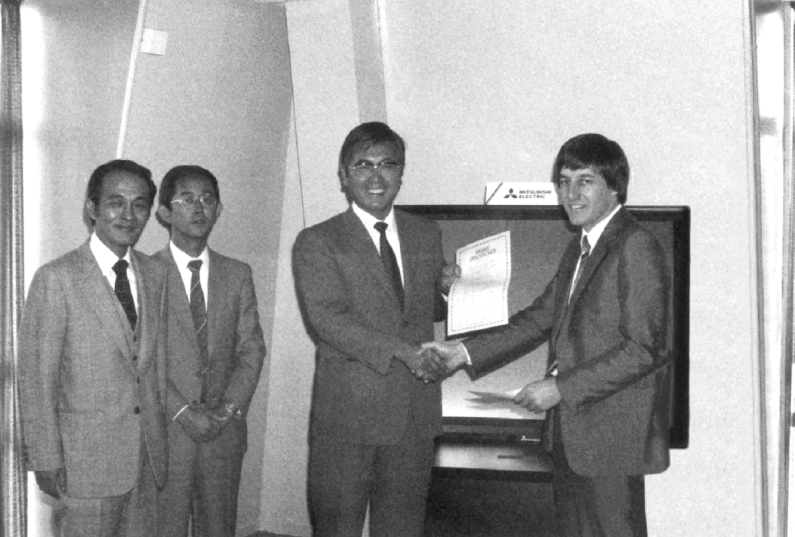 In 1992, with the departure of Pat Feehan, the then Divisional Manager Ken Lilley purchased these shares and became Director.
Key Defining Mitsubishi Electric Products
The Black Diamond Video Recorder
From the first ever Mitsubishi Electric video recorder that was brought into the country in 1981, the HS-330 Model (pictured below), the brand grew from strength to strength.
In 1988, a new range was launched that featured a distinctive black slimline design and was packed with a host of advanced features. No other video recorder had more up-to-date features for the price. This range became known as the Black Diamond Series and was so popular, that from 1988 to 1998 it was New Zealand's best-selling video recorder brand. The advertising created around the Black Diamond name proved so powerful that it became a sub-brand in its own right, and was even used by other Mitsubishi Electric distributors internationally.
Diva Large Screen Television
1984 saw the introduction of Mitsubishi Electric Televisions. Just like video recorders, it did not take long for New Zealanders to aspire to also have a Mitsubishi Electric TV take pride of place in their lounge. As a result, from 1993 to 1996, the large screen feature packed Diva Collection became New Zealand's best-selling TV range.
The Cube Microwave
Another key defining Mitsubishi Electric product was the Cube Microwave. Introduced in 1985, its unique shape was a real conversation starter and became so popular; kitchens in the day had cabinetry purpose built to fit "the Cube". As a true mark of Mitsubishi Electric quality, we still receive calls from customers with working Cube Microwaves that require rehoming, 36 years on!
Our Advertising – the "Don't you wish?" Campaign
From a marketing perspective, the philosophy has always been to be the aspirational brand and to have Mitsubishi Electric product seen as the number one choice in every category it contested.
This has involved creating messages that position Mitsubishi Electric products as stylish, advanced and very user friendly. For many years the memorable tag line for virtually all our products was "Don't you wish you had a Mitsubishi?"
The Only Constant is Change
In a business as dynamic as consumer electronics, change is inevitable. Organisations must develop resilience and flexibility to adapt. In 1997 Mitsubishi Electric underwent changes that saw it announce a global move away from TV and video recorder production. These had been important categories for MELCO / BDT however, like its Japanese partner; the New Zealand Company would also have to change. In 1998 the company re-established itself with Mitsubishi Electric, energy efficient, compressor driven products. It did not take long for the brand to firmly establishing itself in the air conditioning, dehumidifier and refrigeration markets, where it is now one of the major and leading players.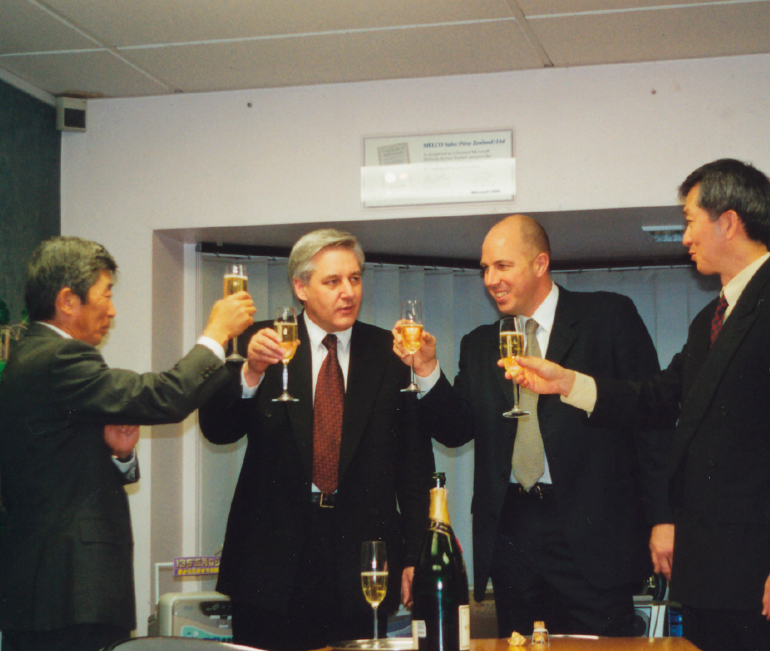 Part of this re-invention was also a change in company structure where Ron Woodrow and Ken Lilley bought out Mitsubishi Electric's 50% stake. With this change to 100% New Zealand ownership, MELCO changed its name to Black Diamond Technologies.
A New Generation of Mitsubishi Electric Products
Through the exclusive partnership with Mitsubishi Electric, BDT has enjoyed the advantages of access to category leading technology and energy efficient, environmentally sustainable products with unique features to improve people's lives.
As a result, the company now specialises in the marketing and distribution of Mitsubishi Electric products including Air Conditioning and Heat Pumps, Ventilation, Hot Water Heat Pumps, Dehumidifiers, Refrigeration, as well as a full range of commercial building HVAC (Heating Ventilation Air Conditioning) solutions.
Integral to the successful change in direction was the joining of Darryl Rochester to the Company in 1999. Darryl came with a long history in the New Zealand air conditioning industry and was ready to take on the challenge of establishing Mitsubishi Electric as the leading brand of energy efficient compressor driven products.
Heat Pumps
While the first Mitsubishi Electric Heat Pump System was sold in New Zealand in 1989, real momentum started in 2006. Using the tried and tested marketing philosophy of leading with unique products that take the higher ground, New Zealand's quietest high wall heat pump was launched.
Just like all those years ago, the philosophy of being the aspirational brand and to have Mitsubishi Electric product seen as the number one choice was front and centre for the marketing of Mitsubishi Electric Heat Pumps.
Quietly Superior
The new "quietly superior" advertising campaign that featured the cat and presenter based format was born. And to this day, Mitsubishi Electric Heat Pumps are now unequivocally synonymous with quietness.
Since then, regular unique product ranges were introduced setting new standards in comfort levels. HyperCore Technology was launched in 2009 that was specifically designed for New Zealand's low temperature conditions. Colour options with the Designer Series was introduced in 2011 giving Kiwis an alternative to just white!
And in 2014 driven by the philosophy of smart technology, BDT took matters in their own hands and developed the Wi-Fi Control app in-house for its range of Mitsubishi Electric Heat Pumps sold in New Zealand. The successful advertising campaign was centred around the premise of "Never return to a cold home again" and absolutely changed the way New Zealanders thought about heat pumps.
So What Does The Future Look Like?
Brought to life in 1998, the Environmental Vision 2021 initiative was established by Mitsubishi Electric with a long term global framework for realising a more sustainable planet. Since then, Mitsubishi Electric has reported annually on its environmental objectives and achievements in Japan and globally, to review the progress of the environmental plans of the group.
A key driver of the Environmental Vision 2021 Mandate is striving for the best and the most environmentally friendly use of energy in buildings by developing zero or low carbon technologies that consume the least amount of energy with minimal environmental impact.
Hot Water Heat Pumps
The Mitsubishi Electric Ecodan Hot Water Heat Pump Range launched in 2020 is a good example of a product that already meets this objective. Utilising their expertise and industry leading technology, Mitsubishi Electric has developed a super energy efficient heat pump that combines both hot water heating and room heating through one system.
Just like heat pumps revolutionised space heating in homes in the early 2000's, hot water heat pumps are poised to take the same trajectory. They are set to become the building blocks of tomorrow's environmentally friendly future and BDT is committed to retain Mitsubishi Electric's leading position in the New Zealand market wherever the journey takes us.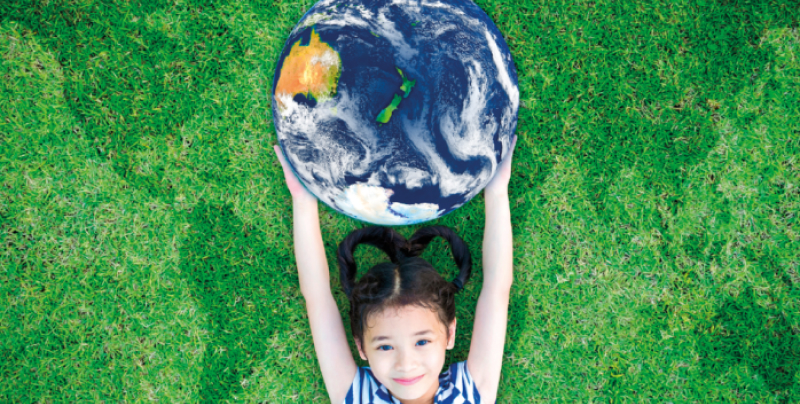 Creating New Zealand's Sustainable Future
On average, with buildings accounting for over 20%* of energy consumption and carbon emissions in New Zealand, improving the level of efficiency is of paramount importance.
As the exclusive distributor of Mitsubishi Electric products in New Zealand, BDT seeks to use its position to increase awareness, improve energy use and minimise carbon footprint in the built environment in the most energy-efficient, cost-effective and environmentally friendly way possible.
By constantly challenging everyone involved to combat the issues we all face, BDT and Mitsubishi Electric aim to help everyone address both energy use and carbon emissions, to work towards a more environmentally sustainable future overall.
BDT looks forward to regularly reporting back on how both BDT and Mitsubishi Electric are taking definitive action today, to create a greener world for tomorrow.
* 20% is based on the consumption oriented view from The Carbon Footprint of New Zealand's Built Environment Report from the 14th May 2018