The New Zealand Government, having adopted the Kigali Amendment to the Montreal Protocol, has cemented us in the drive to reduce our global warming potential. This is impacting the decision-making process when designing HVAC systems, from the global research and design or manufacturing, all the way down to the type of unit we install into our homes and businesses here in New Zealand.
The market has seen the wider adoption of R32 refrigerant on a domestic level, and the increasing immergence of low GWP refrigerants such as R513 or R1234ze in the chilled water market, but the question still remains around the VRF / VRV market as to how we tackle low GWP refrigerants.
Mitsubishi Electric have been at the forefront of the VRF market for many years with the world's first 2 pipe heat recovery VRF system. In 2014, they pioneered the world's first Hybrid VRF (HVRF) system, incorporating VRF Technology into a hydronic-based fan coil system, providing the market with a 2 pipe heat recovery hydronic solution.
Again in 2019, Mitsubishi Electric have led the way by incorporating a low GWP refrigerant with Hybrid VRF giving the lowest GWP VRF-based system available. With a GWP potential as low as 20% of a traditional R410A VRF system, and no risk of refrigerant leakage into occupied spaces, R32 HVRF provides a convenient, modular VRF solution with advantages otherwise found in a 4 pipe heat recovery hydronic system.
Hybrid VRF is a simple premise. Using a traditional VRF condenser as the base of the design, engineers set about developing a hybrid branch controller which uses the same heat recovery principles of a traditional DX system. What sets this system apart is that it incorporates four plate heat exchangers as the condensing and evaporating devices to allow heat recovery to water rather than air.
By using the heat exchangers to absorb and impart heat to the water circuitry, HVRF is able to cool, heat or simultaneously heat and cool the circulated water out to the field devices. The Hybrid Branch Controller (BC) incorporates two separate variable speed DC pumps and manifold systems to direct the heated or cooled water to the required fan coil units. Using only two pipes between the branch controller and each indoor, while still being able to deliver both heating and cooling.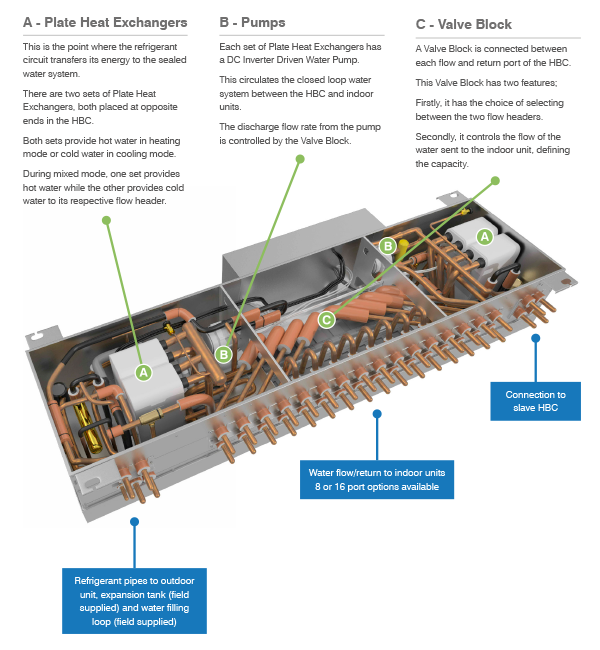 Coupled to a proprietary control system which considers the heating and cooling demand, as well as the flow rate of the system, there is no need for a complicated bespoke control and valve system with Hybrid VRF as there is with a traditional hydronic heat recovery system. This makes Hybrid VRF a very easy-to-use package.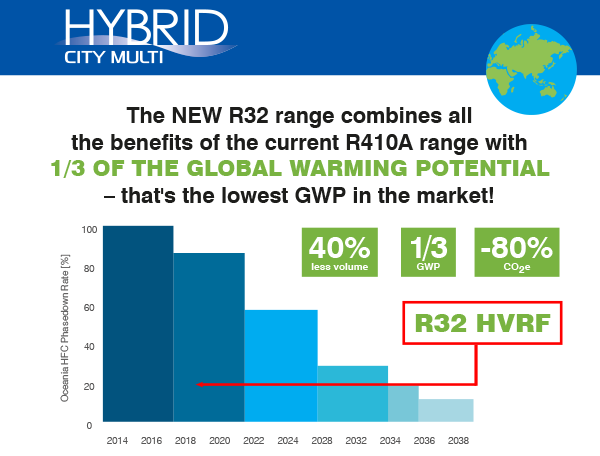 R32 Hybrid VRF is the new era of VRF in the market. Mitsubishi Electric have strived to design a system which not only meets the legislative requirements being imposed on the market today, but also meets the future requirements that our market will have to adhere to.
The demand for high energy efficiencies, low global warming potential and improved corporate social responsibility is increasing. As a result, regardless whether operating on a global, national or regional basis, all businesses are being forced to look at their own buildings and how their decisions on capital plant will impact them over the life span of the product. As such R410A systems are becoming less viable. The cost of refrigerant is only increasing, with R410A cost per kilogram climbing rapidly based on the high GWP and the ETS tax imposed.
As business owners, design engineers, installers and suppliers of HVAC systems in New Zealand, it is our duty to provide the developers and building owners a robust future-proof solution to best suit their building and occupants needs. It is imperative we observe occupant safety and ensure our decisions will not have a lasting impact on our environment for the future.
BDT and Mitsubishi Electric are dedicated to leading the market with innovative products and initiatives which ensure our social corporate responsibilities are upheld; protecting ourselves, our stakeholders and the public.
For more information on R32 Hybrid VRF Technology, click here.