Demystifying the Standard
NZS5149 is a safety and environmental standard that primarily deals with refrigerant leakage and more precisely the risk of asphyxiation or fire that can result from any leak. The standard itself is around 200 pages long set out in four sections covering:
Definitions - describing terms, identifying refrigerants, classifying applications, explaining limits and describing mitigation. This is probably where you will spend most of your time trying to understand what is or isn't required for any project.
Design and construction - requirements for piping, components and assembly. For example; pressure testing, tightening torques, inspections methods etc. Needed after you have decided what is required to meet the standard in section 1.
Installation site - specific requirements for applications such as machinery rooms and requirements for mitigation methods such as alarms or ventilation. Hopefully you don't spend too much time in this section, as it means expense.
Operation maintenance and repairs - covers ongoing use of HVAC and mitigation systems to ensure correct performance. Also covers reclaim, disposal handling and storage of various refrigerants.
NZS5149 definitely is a tricky standard, but anyone working with a DX air con or DX industrial plant should be using it regularly.
What Types Of Refrigerants Should I Look Out For?
Many of the old school refrigerants we have been using (like R410A) are class A1 refrigerants. These are non-flammable but somewhat toxic, so under NZS5149 they only have a toxicity limit. However many of the newer refrigerants (think R32, R1234ze, etc.) are A2 class, which means they are both mildly toxic and mildly flammable. These have the double whammy of both a toxicity and a flammability limit - with the stricter of the two being your overall limit. So any flammable refrigerant will likely be harder to make comply with the standard.
However as we're all aware many "old" gasses like R410A have high Global Warming Potential, so are in a heavy phase out period. Going forward you are more likely to have to deal with a "new" gas that has more stringent requirements.
Annexes B1, B2 and B3 in section one of NZS5149 will tell you all the details for the gas you have. These can be applied in to tables A1 and A2 in the same section - which is where you start to see what you are up for and how big the mountain is that you have to climb.

What Types Of Systems And Applications Should I Look Out For?
From a comfort cooling perspective hydronic systems generally have the chiller sited outside in the open air - so even though the volume of refrigerant in them could be large, 99% of the time they won't be a problem for safety under NZS5149.
Most 1:1 split systems usually won't be too much of an issue either, as often the refrigerant charge volumes they have are pretty small. So unless you have a high capacity split serving a small volume space these are unlikely to cause you any issues under NZS5149. The exception is floor console splits as these are mounted close to the ground which causes issues with the flammability calculation. Take care with these.
The real problem child is VRV / VRF systems as these often have a large gas charge with the refrigerant going right into occupied spaces - which can be small. Combine this with the heavy phase down of R410A gas that all large VRV / VRF systems use, and you can see why designers are moving away from these types of systems.
NZS5149 is also why you won't find any large VRV / VRF DX systems being offered in R32. There is simply no way they could comply with the more stringent flammability requirements of R32 - they have enough trouble complying with the lesser toxicity levels of R410A.
Now looking at applications, the standard sets out a sliding scale for requirements based on room occupancy. As you go up the scale the requirements to comply become more and more onerous.
Classifying Applications

Class A - General Occupancy
Public access spaces such as schools, restaurants, theatres or supermarkets. Additionally, any place with sleeping facilities such as hotels, houses or retirement facilities
Absolute maximum charge kg for a system applies
If exceeding the concentration limit generally 2x forms of mitigation are required
Class B - Supervised Occupancy
Access somewhat limited, with regular repeat occupants. Most offices and professional spaces will fall in to this category
No max charge kg for a system
However if concentration limit is exceeded (same limit as class A) sensors and alarms are required
Class C - Authorised Occupancy
Restricted access to only a selected few people. Often a locked space such as a store room or restricted area in manufacturing
No max charge kg for a system
However if concentration limit is exceeded (same limit as class A) sensors and alarms are required
Determine if There is Likely to be a Problem or Not
In comfort cooling the potentially problematic DX systems are currently all either R410A or R32. So for a standard room the rough maximum concentration levels are:
R410A = approx. 1kg per 1m2 of any room served*
R32 = approx. 1kg per 6m2 of any room served*
*note assumes 2.4m floor to ceiling height. Ceiling void cannot be included in room volume.
My Advice? Avoid Mitigation
In my experience mitigation for excessive refrigerant concentration will be expensive, difficult or both. So the first approach you should look at is changing the design to avoid exceeding the maximum concentration levels by:
Breaking up larger DX systems in to several smaller ones (although take care as this can add significant costs).
Changing to a different type of system. Splits, Hybrid VRF or hydronic systems could all get you out of jail, but of course may require re-work of the design. If doing this be mindful of solving one problem but creating another. For example; splits generally have shorter pipe run maximums which can cause problems for proposed or existing outdoor unit locations.
Not directly treating some spaces with A/C. A no-brainer but if the spaces don't have A/C in them then they can't be a problem.
Changing the size of the problem spaces. This sounds strange, but if you can increase the size of a space you could solve the problem. Removing a physical barrier like a door, or providing a decent door undercut so that the problem space sums with an adjacent larger one could do the job.
If you can't do any of the above then you are up for mitigation, this can be found in section 3 of NZS5149. Some of the possible methods are:
Natural Ventilation
Both high and low level openings in each room that exceeds the limit are required.
Mechanical Ventilation
Both supply and extract vents in each room that exceeds the limit are required. The vents must be positioned "as low as is practicable", so read this as vents in the ceiling are not acceptable.
Safety Shut Off Valves
Operated by sensor and positioned close to the space in question to prevent the maximum concentration level being exceeded in the event of a leak.
Sensors and Alarm System
Must provide an audible and visual warning and if the application is class A also report to a supervised remote location. Any sensor must be re-calibrated at least annually (some are more frequently). Note: all sensors have a limited service life of between 2 -5 years and so must be regularly replaced.
The Hidden Costs of Mitigation - An Example
A floor in a commercial building that has been separated in to 40x small offices with a VRV system proposed to condition them. Clearly an office is a class B application, so there is no limit on the system charge and no problem right? No, wrong!
In class B, any space that exceeds the maximum concentration limit still needs to have sensors and an alarm system. So if all 40 offices exceed the maximum limit we are up for approximate costs as follows:
Combined 10 Year Life Cost for Alarms = $302,000
As you can see the hidden cost can often be a lot more than changing to a different system type or another design related change.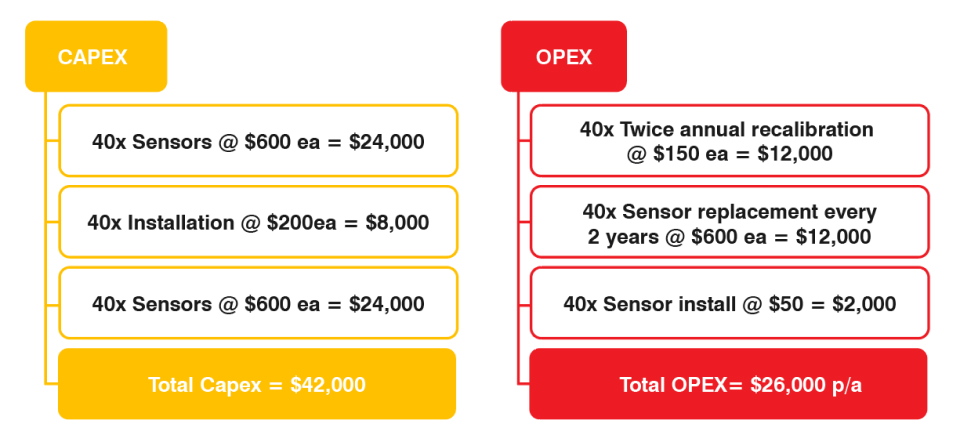 Combined 10 Year Life Cost for Alarms = $302,000
In Summary
Don't Ignore NZS5149 - the penalties are huge!
Non-flammable gasses comply more easily (but are getting rarer)
Know your space. Is it occupied? What class is it?
Large charge (VRV / VRF) are by far the most problematic
Mitigation is horrendously expensive - avoid it any way you can

BDT is a HVAC product supplier not a refrigeration supplier, so all comments are given from this perspective. Everything discussed is BDT's opinion or interpretation. Other opinions may differ. It is recommended you check any designs you do against the NZS5149 standard for yourself or engage a professional to verify your interpretation. Click here to read the full standard.